Hunt 2 / Moose Hunt:
From the middle of September to the beginning of November is the best time to hunt these majestic animals.

By concentrating on meadows, lakes and swampy areas where the majority of the cows are gathered we have great success with our calling techniques. What a thrill it is to call a 900 pound bull until he is only a few yards away grunting madly. An experience you won't soon forget.

We offer two different Moose hunts.
Hunt 2 / Moose and Wolf :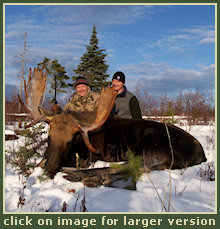 10 Days, 1 - 1: $9,500
One takes place in the same area as our Spring Bear Hunt (Hunt 1). We bring our trucks across Babine Lake with a logging barge, then drive to the different spots to hunt by foot or we may sit and call depending on wind and weather.




Hunt 2 / Fly-In Moose Hunt in the Park :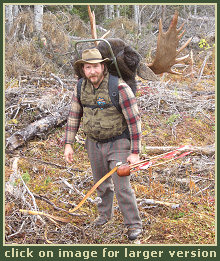 10 Days, 1 - 1: $9,500 + $900 flight cost

In the heart of "Rubyrock Lake Park" we have a fly-in camp on a small lake. Surrounded by untouched wilderness this area has one of the highest moose populations in the province and regularly produces good trophy bulls. The hunts are conducted to a large part with the canoe or on foot and utilize different calling techniques. There will not be more than two hunters at a time at this lake.
Bring your fishing rod as these waters are teeming with trout and it is always a great treat to fry up fresh fish for dinner.